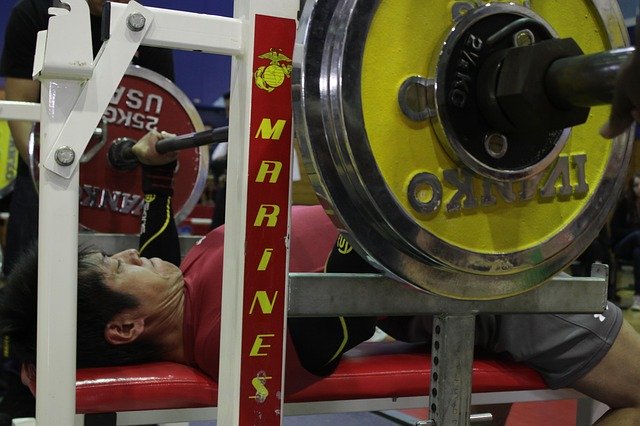 こんにちはー!おはよー!こんばんわー!
現役ボディビルダー、現役トレーナーの健っす。
今日はベンチプレスを頑張っている人に向けた記事だよ。
ベンチプレスを頑張っていると「傾いている」人が多い。
これをよく「体が歪んでいるから」「左胸の方が力が弱い」と判断している人が多いが、実はもっとシンプルなところに答えがあったりすることが多い。
もちろん歪みと筋力差っていう可能性も高いけども。
筆者の情報として、今はマシン派のボディビルダーだけど、前はパワーリフターで結構大会も出ていた。
そしてトレーナーとして10年以上のキャリアがある。
つまり、ある程度自身がある情報ってこった。
同じ場所を握っていない
これ、結構多い。
基本的にはバーベルの太い線、81cmの所を握るといいと思う。
これを適当に握って、1cmやそれ以上、左右で違うところを握っていることが多い。
左右で重心がずれるから、傾くに決まっている。
いやいやちゃんと同じどころを握っているよ!という人もいるが、これは握ってからズレている。
ちゃんと握った後に、背中を寄せるなど色々やっているうちにズレているんだね。
実は俺がベンチプレスのフォームを見るとき、最初に見る箇所がここ。
パッと握ていたら大抵はずれが生じると思っていい。
しっかりと1mmのズレも許さないくらい丁寧に掴み、背中や脚のフォームが完成した後も今一度手の幅をチェックしよう。
バーを真ん中に下ろしていない
これも多い。
例えばバーを右斜めに下ろしてしまっていて、バーの中心が胸の中心に下りていないことがある。
これもやはり自覚がない人が多くて、指摘するとマジで!ってなることが多い。
バーが胸に付く瞬間は自分の目で確認できないからね。
他人に見てもらうか、無理なら滅茶苦茶意識しよう。
大抵は背中の寄せが左右均等に出来ていないことが多い。
でも大切なのは「中心に降りていないと気づくこと」
グリップや脚の位置が違う
これもよくある。
グリップはかなり繊細で、自分で手首を痛めないように且つ、力が入りやすいように、適度に捻ったり寝かしたり、mm単位で調整が求められる。
・・・ということを意識していない人が左右の握り方がズレていることが多い。
例えば多いのは、左の手首だけが寝て、右は立っている、などだね。
捻りの差もよく見る。
脚の位置はそのまま。
大抵は揃うが、やはりズレていることがある。
注意。
背中の肩甲骨が左右均等でない
全ての項目で言っている気もするが、これも多い。
肩甲骨は上下左右奥手前と、縦横無尽に動くことができる高機能な箇所だ。
で、ベンチプレスをする際は肩甲骨を寄せるのが基本なんだが、これが左右均等に出来ていない人が多いんだ。
具体的に多いケースは、まず利き腕の肩甲骨が固く、寄せが甘くなっていること。(寄せる距離に差)
次に、利き腕の肩甲骨が肩がすくむ方向に入ってしまう人。(寄せる方向に差)
寄せ方、寄せる方法はグリップと同じくかなり繊細になるのでここでは説明不能。
言いたいことは、左右でズレる人が多いということ。
原因は柔軟性の差があるとこがほとんど。
筋力の差
これが最後で、やっと筋力の差だ。
単純に右胸より左胸の力が弱いと、意識的にコントロールしない限りは傾くよね。
でもこの項目で一番言いたいことは、筋力の差の原因よりも上記の項目の「左右のズレ」はちゃんとチェックできているか?ということ。
傾きを直すにはどうすればいいの?
まずは上記の項目をチェックし、ズレがないかのチェックをして欲しい。
ほとんどの人は「適当にやって」歪みが出ている。
一つ一つ繊細にチェックしてみよう。
次にやってほしいのは、左右がばらけて動くタイプのトレーニングをしよう。
左右が個別に動くチェストプレスがあればぜひ活用しよう。目の前に鏡があればベストだ。
このチェストプレスをしっかり肩甲骨を寄せて、全力でやる。その姿を鏡で見てズレていないかチェック。
ズレていれば意識的に修正。
そういうチェストプレスがないのであればダンベルプレスで代用しておこう。
これらのトレーニングは、左右別々に制御をしないといけないので、左右の柔軟性や筋力の差を自動的に無くしてくれる力がある。
当たり前だけど、安定させてきっちりやってね。
まとめ
大抵は、握る場所や、左右の肩甲骨がズレているという、ある意味とてもシンプルな理由なことが多い。
大切なのは「気づくこと」で、その自覚があれば結構修正が可能だったりする。
以上!
[Intermediate] Summary that trainers often give advice to people whose bench press is not stable
Hello! good morning! Good evening!
Active bodybuilder and active trainer.
Today's article is for people who are working hard on bench press.
There are many people who are "tilting" when they work hard on a bench press.
There are many people who often judge this as "because the body is distorted" or "the left chest is weaker", but in fact there are often simpler answers.
Of course there is a high possibility of distortion and muscle strength difference.
As a writer's information, I'm a machine builder now, but in the past there were quite a few competitions with power lifters.
And I have a career of over 10 years as a trainer.
In other words, I have some information.
Do not hold the same place
This is quite a lot.
Basically, you should hold the barbell's thick line at 81cm.
Grasping this properly, I often hold a difference of 1cm or more on the left and right.
The center of gravity shifts from side to side, so it is decided to tilt.
I hold the same point as Noi-chan! Some people say that this is out of sync.
After holding it properly, it 's misaligned while doing various things, such as pulling back.
Actually, when I look at the bench press form, this is the first place I see.
You can think that if you grab it, it will usually be out of place.
Grab it carefully and not tolerate the 1mm deviation, and check the width of your hand once again after the back and leg forms are completed.
The bar is not down in the middle
This is also a lot.
For example, you may have lowered the bar diagonally to the right and the center of the bar is not down to the center of your chest.
Again, there are many people who are not aware of this, and if you point out it is serious! It often becomes.
I can't see the moment when the bar touches my chest.
Let others see you, or if you can't, try to be confused.
In many cases, the back is not evenly distributed from side to side.
But the important thing is "noticing that you are not in the center"
Grip and leg positions are different
This is also common.
The grip is quite delicate, and it is necessary to adjust it in millimeters by twisting or laying down moderately so that the wrist does not hurt by itself and the force is easily applied.
Often people who are not conscious of that are misaligned.
For example, there are many cases where only the left wrist is sleeping and the right is standing.
I often see the difference in twist.
The position of the legs remains the same.
Most of them are aligned, but they may still be misaligned.
Caution.
Back scapula is not right and left
I feel like I'm talking about all the items, but there are many.
The scapula is a highly functional part that can move endlessly in the vertical and horizontal directions.
And when you do a bench press, it's basic to bring your shoulder blades closer, but there are many people who don't do this evenly.
The most common case is that the scapula of the dominant arm is hard and soft. (Difference in distance)
Next, the person who enters the direction where the shoulder blade of the dominant arm shrugs. (Difference in direction of approach)
The approach and approach are not as detailed here as the grip is quite delicate.
What I want to say is that there are many people who are misaligned.
The cause is mostly the difference in flexibility.

Muscle strength difference
This is the last and finally the difference in strength.
If your left chest is weaker than your right chest, it will tilt unless you consciously control it.
But what I want to say most about this item is that you have checked the "left / right misalignment" of the above item rather than the cause of the difference in muscle strength? That means.
How can I correct the tilt?
First of all, check the above items and check for any misalignment.
Most people are "just done" with distortion.
Let's check carefully one by one.
The next thing I want to do is do a type of training that moves left and right.
If you have a chest press that moves independently on the left and right, make sure to use it. It is best if there is a mirror in front of you.
Do this chest press with your scapula firmly. Check if it is misaligned by looking in the mirror.
If it is off, correct it consciously.
If you don't have such a chest press, use a dumbbell press instead.
Since these trainings must be controlled separately on the left and right, they have the power to automatically eliminate differences in left and right flexibility and muscle strength.
It's natural, but keep it steady.
Summary
In many cases, there are many simple reasons why the grip location and left and right shoulder blades are misaligned.
The important thing is "awareness", and if you are aware of it, it can be corrected.
that's all!