今日はブランパンを作るよ。
ー15kgに及んだ減量期だが、本当に最後の最後まで食べるつもり。
具体的には一日に6枚ほど食べている。
たぶん、減量期には一生使うんじゃないかなぁと思う、究極の素材だと思う。
1斤で糖質は15gくらいね。
では画像を中心に作り方を説明する。
2分で調理完了、焼けるまで3時間、切るの2分。
強めに言うけど、普段お米やパスタを食べている人がこのパンに切り替えたら、
ほぼほぼ間違いなく痩せます。
まず材料と調理道具。
基本これだけ。
左から、
①タニタのはかり
入れ物置いて0を押す、粉入れて0を押す、みたいな感じで使える。
②ホームベーカリー
母が買ったけと使っていなかったやつを強奪した。
色んなモードがあって餅とかも作れるみたい。
実際はもっと安いやつでも大丈夫だと思う。
③TOMIZふすまパンMIX
Amazonで10kgのやつを買っている。
1斤150g使うから、66斤できる計算か。
俺は結構ハードに食べるから2日に1回焼いてる。
毎日食べたとして大体130日くらいもつね。
④ドライイースト 赤サフ
お菓子を作る人だと有名なメーカーみたい。
これがないと膨らまないらしいよ。
あったほうがいいと思う商品。パンを上手く切るためのもの。
小さなパン屋さんの気分になろう。
 ①パン用包丁 軽くノコギリみたいな形状になっている。
②スライサー まっすぐ切れるよ。
 調理法 画像で一気に説明します。
ふすまパンMIX 150g
イースト4g
卵1個
水150ml
塩 少々
ボンッ!
TOMIZふすまパンMIX ふぁさー
150gね
ドライイースト 赤サフ
さらさらー 4gね
たまご これはなくても大丈夫
塩ひとつまみ
水
150ml じゃーん
セットして
ピッ 早焼きモードが推奨みたい
3時間後 完成
かわいい これが15gくらいの糖質しか入っていない おにぎり1/3くらい
ざくー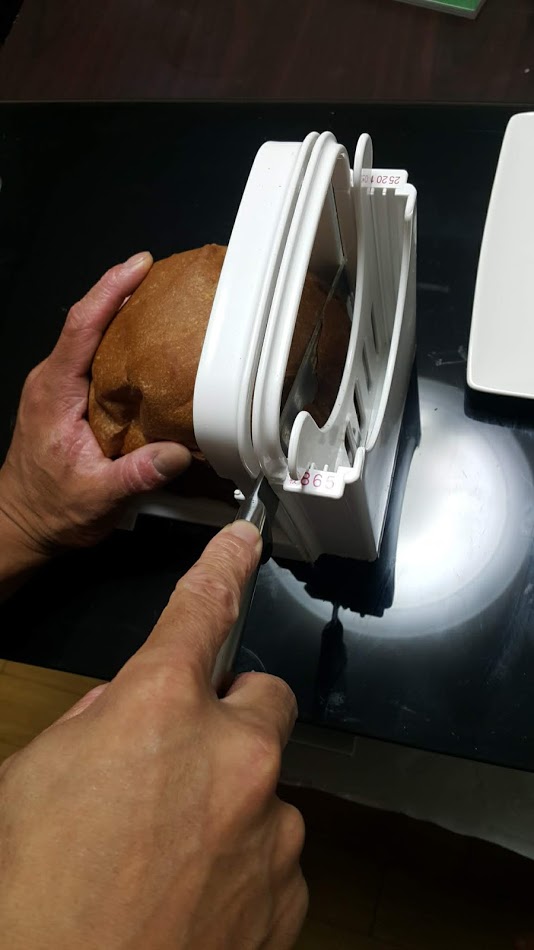 ぼよーん
完成です!
ダイエットに本当に、本当におすすめのブランパン。
ここからココナッツオイルと人工甘味料が俺の定番。
サンドイッチやフレンチトーストもいいね!
ぜひ試してみて!
 I'll make Blancpain today.
-It's a weight loss period of 15kg, but I'm really going to eat it until the very end.
Specifically, I eat about six meals a day.
Perhaps it is the ultimate material that I think will be used throughout my life in the weight loss period.
About 1 g of sugar is about 15 g.
Let's explain how to make images.
Complete cooking in 2 minutes, 3 hours to bake, 2 minutes to cut.
To be strong, if someone who normally eats rice or pasta switches to this bread,
You can almost lose weight.
First, ingredients and cooking utensils.
This is just basic.
From the left
① Tanita scale
You can use it like putting a container and pressing 0, putting powder and pressing 0.
②Home bakery
He snatched the one he bought and didn't use.
There are various modes and you can make strawberry.
In fact, I think that cheaper ones are okay.
③TOMIZ bran bread MIX
I bought a 10kg one on Amazon.
Is it possible to calculate 66?
I eat quite hard, so it's baked once every two days.
I eat about every day for about 130 days.
④ Dry yeast red saff
It looks like a famous maker when making sweets.
It doesn't seem to swell without this.
 Products that you should have. For cutting bread well.
Feel like a small bakery.
① Bread knife A lightly saw-like shape.
② Slicer You can cut straight.
Cooking method Explains at once with images.