食品を買うとき、パッケージだけ見て買う人はしっかり今回の記事を読んで欲しい。
当たり前だけど、食品のパッケージは消費者に魅力的な情報を見てもらえるようにデザインされている。
で、当たり前だけど弱点は書かない。
つまり、パッケージだけを見て購入していると、摂りたくもない栄養素が入ってきてしまうことが多い。
パッケージだけではなく、裏面の栄養表記をみましょう。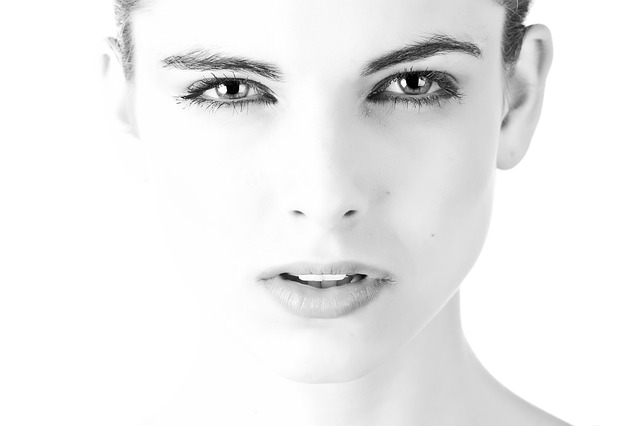 やはりよく見るのは、砂糖がやたら入っている商品。
例えば、
「朝食におすすめ!低GIのオールブラン」(砂糖いっぱい!)
「ダイエットに有効!ブランパン」(小麦たっぷり!)
「毎日の健康習慣!調整豆乳」(砂糖ごっそり!)
パッケージはダイエットに有効、みたいな書き方をしているけど、砂糖や小麦いっぱい使われてることが多いんだよね。
低糖質が健康にとって非常に大切だと考えている俺にとっては、上記3つののような商品は、体にとって毒だと断言する。
そこで成分表を見てみよう。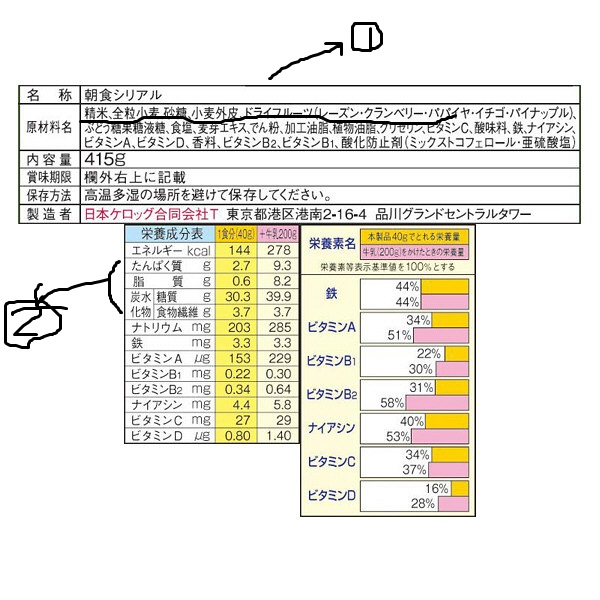 ほい、ケロッグさんの朝食シリアルの成分表。
まず見て欲しいのが①ね。
意外と知られていないんだけど、左上から順番に成分が多いものになっている。
つまりこの場合、精米→全粒粉麦→砂糖→小麦外皮・・・の順番に多いわけだね。
次に②
これはシンプルだね。
ダイエット中なら糖質に注意。
ダイエットに運動を取り入れているならたんぱく質が高いことも大切だね。
最初に言ったとおり、パッケージではダイエットに有効、とか、健康習慣!みたいに書かれていることが多いけど、ここを見ないとその商品が本当に良いものなのか分からないと言っても過言ではない。
最初は見たことのない食品や栄養素で戸惑うと思うが、その度にググって見て欲しい。
1ヶ月も継続すれば、パッと成分表をみるだけで商品の評価がある程度できるようになると思うよ。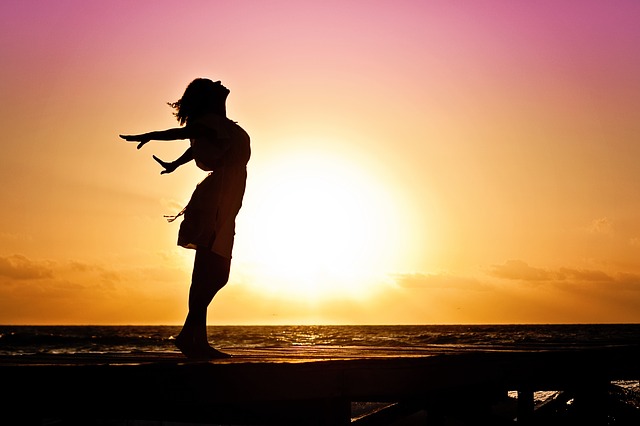 もう一つ、似たような例をだそう。質問があった内容だよ。
「ダイエットプロテイン」
有効でしょうか?という質問。
この結論だけど、ダイエットが目的であっても、「ダイエットプロテイン」のパッケージのプロテインは使わないほうがいいと考えている。
理由はシンプルで糖質が高いことが多いから。
たんぱく質21.7g、脂質2.6g、炭水化物20.1g(糖質12.3g、食物繊維7.8g)
上記は「ダイエットプロテイン」で検索して、一番上に出てきた適当な商品の成分表。
たんぱく質が21.7gに対して糖質が12.3gも入っている!
もちろんこれは色々とダイエットに必要な栄養をを入れた結果、こうなってしまった感じ。
たぶん製作者がこれを見たらめちゃくちゃ反論してきそうだ。
でもね、あくまでも俺の感覚なんだけど、
A たんぱく質20g+糖質2gのプロテイン
B たんぱく質20g+糖質12g+ダイエットに有効な栄養が入ったプロテイン
この二つ、たぶんAの方が痩せる力があると思うんだよね。
そもそもだけど、ダイエットに有効なのは低糖質、良質なオイル、高たんぱくが基本。
ダイエットに有効といわれる成分は優先順位が非常に低いと考えている。
という訳で俺は、ダイエットプロテインは、
ダイエットする人に買ってもらうために、パッケージに色々書きたいから色々成分入れました
という商品だと思っている。
あと高いことが多いの、ダイエットプロテイン。
致命的だよね。
少々特異な例を出したが、ダイエットプロテインに関しても、成分表をしっかり見れば、本当に有効かが見えてくると思う。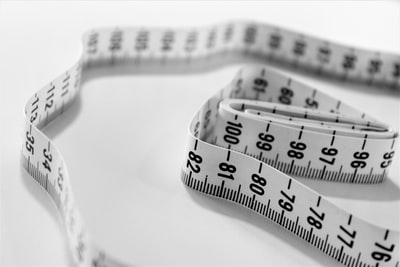 まとめ
パッケージだけみて買うと、想定内の成分を摂取してしまう恐れあり
裏面の成分表をみよう 知らない成分はググれ すぐ慣れる
ダイエットに有効な成分を摂取するより、糖質を減らしたほうが痩せると思う
[For beginners] You don't have to look at food packages! Next, evaluate diet protein!
When buying food, people who only look at the package should read this article.
Of course, food packaging is designed to give consumers attractive information.
And it 's natural, but I do n't write any weaknesses.
In other words, if you buy only by looking at the package, you often get nutrients that you don't want to take.
Look at the nutrition label on the back, not just the package.
I also often see products that contain sugar.
For example,
"Recommended for breakfast! All brands with low GI" (full of sugar!)
"Effective for dieting! Blancpain" (with lots of wheat!)
"Daily health habits! Adjusted soy milk" (Sweet sugar!)
The package is written to be effective for dieting, but a lot of sugar and wheat are often used.
For me who think low sugar is very important for health, I declare that products like the above three are poisonous to the body.
Let's look at the composition table.
Hoi, Kellogg's breakfast cereal ingredient list.
The first thing you want to see is ①.
Although it is not known unexpectedly, it is the one with many ingredients in order from the upper left.
In other words, in this case, the order is: milled rice → whole wheat → sugar → wheat hull….
Next ②
This is simple.
Pay attention to carbohydrates if you are on a diet.
If you have exercise in your diet, it's important to have high protein.

As I said at the beginning, the package is effective for dieting and health habits! It is not an exaggeration to say that if you don't look here, you don't know if the product is really good.
At first I think you'll be confused by foods and nutrients you have never seen, but I want you to google it every time.
If you continue for a month, you will be able to evaluate the product to some extent just by looking at the ingredient list.
Another example is similar. That 's the question.
"Diet protein"
Is it valid? That question.
Although this is a conclusion, even if diet is the purpose, I think it is better not to use the protein in the "Diet Protein" package.
The reason is simple and often high in carbohydrates.
21.7g protein, 2.6g fat, 20.1g carbohydrates (12.3g carbohydrates, 7.8g dietary fiber)
The above is the ingredient list of the appropriate product that came up at the top after searching for "diet protein".
There are 12.3g of sugar in 21.7g of protein!
Of course, this is the result of adding the nutrients necessary for dieting.
Probably the producers will mess up with this.
But it 's just my sense,
A Protein 20g protein + 2g carbohydrate
B 20g protein + 12g sugar + protein with nutrition effective in diet
I think these two are probably more powerful than A.
In the first place, low-sugar, high-quality oil, and high protein are basically effective for dieting.
The ingredients that are said to be effective in dieting are considered to have a very low priority.
That 's why I think diet protein is
I put various ingredients because I want to write various things on the package so that people can buy it.
I think this is a product.
Diet protein is often expensive.
That's fatal.
I gave a little peculiar example, but for diet protein, if you look closely at the ingredient list, I think that it will be really effective.
Summary
If you look only at the package, you may ingest the expected ingredients
Let's see the ingredient list on the back side.
I think it's more profitable to reduce carbohydrates than to take ingredients that are effective in dieting