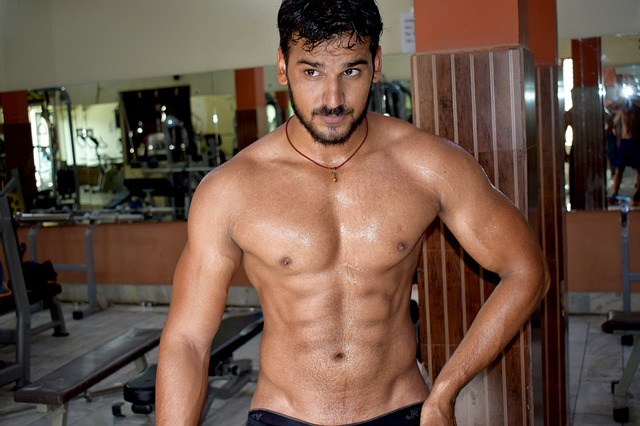 こんにちは!
現役ボディビルダー!フレッシュ健次です。
今日は初心者~中級者のトレーニー向けに「増量期」についての考え方を執筆するよ。
かっこよく言うと「OFF」だね。
飲み会で「今オフだからさ~」って言うとアスリートっぽくてちょっとかっこいい(笑)
そもそもなぜ減量期と増量期を分けるのか
減量期は、基本的には低糖質の食生活になると思う。
限りなく体脂肪率を下げたいから、その目的に向かうならおそらく正解。
でも筋肉のエネルギーとして糖質は大変優秀。
筋肉のエネルギーが不足すると、筋肥大しにくいのはもちろん、回復力の低下、トレーニング中のクオリティ低下などを招き、上手く成長できないことも多い。
そこで減量期と増量期で分けるわけだ。
オンとオフね。
夏は減量期。しっかりダイエット!
冬は増量期。しっかり筋肥大!
増量期の食事は?
減量中の食事のルーティンに、糖質をある程度追加して欲しい。
特にトレーニング前後ね。
最低でも除脂肪体重の4倍は摂取するべきだと思う。
60kgの人なら、ざっくりと脂肪を除いて50kg×4gで、200gは必ず摂取して欲しい。
トレーニングの量や、より体重を増やしたい人なら、体重の6倍程度摂取しても問題ない。
当たり前のことを言うけど、これはハードにトレーニングをしている人の糖質量ね。
なにもスポーツをしていないなら、素直に体重×1gの低糖質でお願い。
食べる糖質の種類だけど、基本的には米(玄米)でいいと思っている。
ちなみに糖質を200g摂取するにはお茶碗4杯ほどの米。
トレーニング前後はマルトデキストリンを使うと、タイムリーに糖質を摂取できる。
グリコのCCDが美味しくておすすめ。(Amazonにリンク)
適当に具体的な食事を考える
トレーニングを週に5回頑張る若い男性のイメージ。
プロテインは30g。
早朝
プロテイン グルタミン5g
朝食
ごはん茶碗1杯 たまご1個 サラダ(オリーブオイル系のドレッシング)
間食
プロテイン
昼食
焼き魚定食
間食
プロテイン
トレーニング中
水1.5Lに、CCD60g、EAA10g、クレアチン5g
トレーニング後
残ったドリンクでプロテイン
夕食
鶏胸肉を使った野菜たっぷりのお鍋
ごはん茶碗1杯
寝る前
グルタミン5g
体重の増え幅は+10%までに
昔は「めちゃくちゃ食べて、思いっきり体重を増やせ!」と腹が出たおじさんにアドバイスされたものだ。
無駄に増える脂肪は無駄。マジで無駄。
体重の増え幅は、多くても+10%ほどに押さえるべきだと思う。
ウエストサイズで言うと、10cm増えるとヤバイと思って欲しい。
脂肪が増えすぎると、次の減量期が長くハードになり、せっかくつけた筋肉を落としかねない。
この数値を大きく越えるならば、少々食生活の改善が必要だ。
トレーニングのクオリティはしっかり上げよう!
糖質が十分摂取できる環境であれば、トレーニングもハードにできる。
反復回数の増加や、持つ重りの増加を目指そう!
怪我には十分注意な。
まとめ
中級者~上級者はオンとオフを分けてみよう
糖質を体重の4倍~6倍グラムまで増やす
でも体重の増え過ぎには注意 +10%が上限
トレーニングは超頑張る
以上!
The concept of the growth period 2019 Summarized briefly so that even beginners can understand!
Hello!
Active bodybuilder! This is Kenji Fresh.
Today I'm going to write an idea about "bulk-up period" for beginner to intermediate trainees.
It 's "OFF" to say cool.
If you say "I 'm off now" at a drinking party, it 's an athlete and it 's a little cool (laughs)
Why separate weight loss period and weight gain period in the first place?
During the weight loss period, I think basically a low-sugar diet.
I want to lower my body fat percentage as much as possible.
But carbohydrates are very good for muscle energy.
Insufficient muscle energy not only makes muscle hypertrophy difficult, but also results in poor recovery and poor quality during training, and often fails to grow well.
Therefore, it is divided into a weight loss period and a weight increase period.
On and off.
Summer is a weight loss period. A good diet!
Winter is the period of increase. Firmly hypertrophy!
What about meals during the growing season
I would like some sugar to be added to the dietary routine during weight loss.
Especially before and after training.
I think you should take at least 4 times your lean body mass.
If you are a 60kg person, you should be sure to take 50g x 4g and 200g without fat.
If you want to increase the amount of training or weight, you can take about 6 times the weight.
It goes without saying that this is the sugar mass of people who are training hard.
If you aren't doing any sports, be sure to use a low carb weight of 1g.
It's the type of sugar you eat, but basically I think rice (brown rice) is fine.
By the way, about 200 grams of sugar is about 4 cups of rice.
By using maltodextrin before and after training, you can take carbohydrates in a timely manner.
Glico CCD is delicious and recommended. (Link to Amazon)
Think about specific meals
Image of a young man who works hard five times a week.
Protein is 30g.
early morning
Protein Glutamine 5g
breakfast
1 cup of rice bowl, 1 egg, salad (olive oil dressing)
Snack
protein
lunch
Grilled fish set meal
Snack
protein
During training
Water 1.5L, CCD 60g, EAA 10g, creatine 5g
After training
Protein left in the drink
dinner
Pot with plenty of vegetables using chicken breast
1 bowl of rice bowl
before sleep
Glutamine 5g
Increase in weight by + 10%
In the past, he was advised by an uncle who was angry, saying, "Eat mess and increase your weight!"
Fat that increases in vain is wasted. Seriously useless.
I think the increase in weight should be kept to about + 10% at most.
In terms of waist size, if you increase 10cm, I want you to feel bad.
If you get too much fat, your next weight loss period will be hard for a long time, and you may lose your muscles.
If this number is greatly exceeded, a little improvement in eating habits is necessary.
Let's improve the quality of training!
Training can be hard if the environment is sufficient for carbohydrate intake.
Aim to increase the number of iterations and increase the weight you have!
Be careful about injuries.
Summary
For intermediate to advanced, let's separate on and off
Increase sugar to 4-6 grams of body weight
But beware of excessive weight gain + 10% is the upper limit
Training is super hard
that's all!