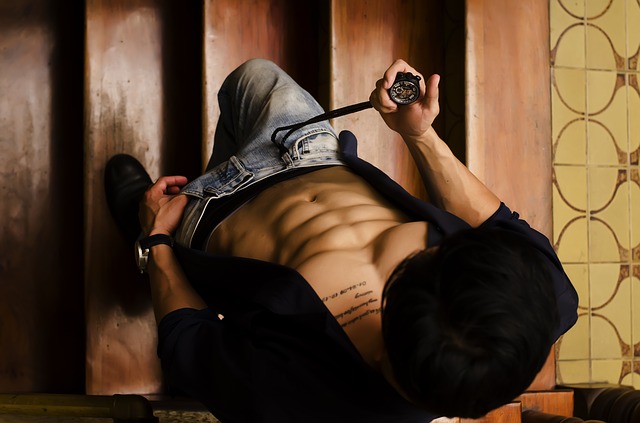 こんにちはー!
現役ボディビルダー、現役トレーナーの健どす。
今日は初心者に頻繁に質問される内容だよ!
一番筋肉がつく方法を教えてください!
超ストレート!
ここだからはっきり言うけど、その答えは1時間貰っても説明しきれないね。
ゆっくりでいいから少しずつ勉強していってほしい。
が、今日はザックリとだけど、俺の考える「一番筋肉をつける方法」をまとめてみるよ。
あらかじめ言っておくけど、99%の人は継続が無理だと思う。
そんなの無理だよ、と思う人が多いだろうが、半分だけ真似をしてみるなど、参考になればうれしいよ。
一応条件だけど、月に3万円くらいを肉体改造に使うものとする。
(毎日パーソナルトレーナーを付ける、などは除外)
さぁ始めよう、筋肉を最速で、最も成長する方法だ。
トレーニング場所
ゴールドジムか、それに匹敵するジムだ。
はっきり言ってこれが答えだ。
トレーニングの環境はめちゃくちゃ大切だ。
「上級者向けだから入りにくい」と言っている人、圧倒的にマッチョになるセンスないよ。
駅で2~4駅、車で30分などかかるくらいなら頑張って通ってみてはどうだろうか?
かなりハードだが、そういった人は何人か知っている。
トレーニング頻度
週5~7回でお願いします。
たぶんこれが原因で99%の人が挫折することになる。
会社から直帰して休養することが不可能。
大事な会議の前や、資格の勉強があってもジムに来なければならない。
時には睡眠時間を削られることもあるだろう。
時には家族や友人、フィアンセからも白い目で見られることもある。
でも頑張ろう。
一番筋肉をつける方法を教えてほしいんだろう?
こちらの記事も参考に!
トレーニングプランは?
分割法を使って、5分割にしよう。
ちなみに俺は胸、肩、背、腕、脚。
トレーニングプランの話はこちら
一日のトレーニング時間は90分前後といったところか。
食事は?
バルクアップを目指して、基本的には人並みの3割り増しくらい食べるようにしよう。
炭水化物は除脂肪体重の×5g
たんぱく質、除脂肪体重の×3g
脂質は不飽和脂肪酸をメインに考え、除脂肪体重の×1g
このくらいのバランスで。
大切なポイントがいくつかある。
タンパク質は5回に分けて摂取してほしい
素直にプロテインを間食に活用しなされ
特に朝一と寝る直前はしっかりね
トレーニング前後はしっかり糖質を補給しよう
少なくとも30gずつ
サプリメントは?
一日の間食に、プロテインを3回~4回
クレアチンは必須
トレーニング前後にEAA、BCAA、デキストリンなどを活用
朝一と寝る前はプロテインに合わせてグルタミンとビタミンミネラルの接種がおすすめ
以上!最後に・・・
結構強烈だったと思うんだけど、いわゆる「上級者」はこんなことをしているんだね。
ほとんどの人は、こんな生活できない、と言うだろう。
知っている。
冒頭でも言ったが、これを参考にして、多少真似をしてみるなどしてみてほしい。
ちょっとでもモチベーションの向上に繋がればうれしい。
Introducing the fastest and most muscle-building method
Hello!
Active bodybuilder and active trainer.
Today's questions are frequently asked by beginners!
Please tell me how to get the most muscles!
Super straight!
I say it clearly here, but I can't explain the answer even if I talk for an hour.
I want you to study little by little because it is slow.
But today I'm Zakkuri, but I'll summarize what I think "how to build the most muscles".
As I say in advance, 99% of people think it is impossible to continue.
Many people think that it is impossible, but I would be happy if it would be helpful to try to imitate only half.
Although it is a condition, about 30,000 yen a month will be used for physical remodeling.
(Excluding daily personal trainers)
Let's get started, the fastest way to grow your muscles.
Training place
Gold gym or comparable gym.
To be clear, this is the answer.
The training environment is very important.
Those who say "It's hard to enter because it's for advanced users", there is no sense to become overwhelming macho.
If it takes 2 to 4 stations at the station and 30 minutes by car, how about trying it through?
It's pretty hard, but I know some of them.
Training frequency
I ask 5-7 times a week.
Perhaps this causes 99% of people to frustrate.
It is impossible to go home and take a rest.
You have to come to the gym before an important meeting or even if you study qualifications.
Sometimes sleep time may be cut off.
Sometimes white eyes can be seen by family, friends, and fiances.
But let's do our best.
Would you like me to teach you how to get the most muscles?
Also refer to this article!
What is your training plan?
Use the division method to make 5 divisions.
By the way, I have chest, shoulders, back, arms and legs.
Click here for the training plan
Is the daily training time about 90 minutes?
What about meals?
Aiming for a bulk increase, basically eat about 30% more than a normal person.
Carbohydrate x 5g of lean body mass
Protein, lean body mass x 3g
Lipid is mainly unsaturated fatty acid, lean body weight × 1g
With this much balance.
There are several important points.
I want to take protein in 5 divided doses
Obediently using protein for snacks
Especially right before going to bed in the morning
Replenish carbohydrates before and after training
At least 30g each
Also refer to this article!
What about supplements?
3-4 times of protein for a meal during the day
Creatine is essential
Use EAA, BCAA, dextrin, etc. before and after training
Before going to bed in the morning, it is recommended to inoculate glutamine and vitamin minerals with protein
Also refer to this article!
that's all! Finally···
I think it was quite intense, but the so-called "advanced people" are doing this.
Most people will say that they cannot live like this.
know.
As I said at the beginning, I would like you to try to imitate a little by referring to this.
I would be happy if it would improve my motivation.